Friday, July 8, 2022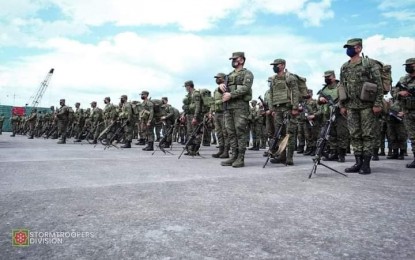 The Philippine Army will deploy more troops to some towns in Northern Samar following the recent detonation of anti-personnel land mines by the communist terrorist group that wounded seven soldiers in Mapanas town.
Capt. Ryan Layug, Philippine Army's 8th Infantry Division spokesperson, said additional troops will be assigned in the Pacific towns of the province with some villages still threatened by the presence of the New People's Army (NPA).
"We are sustaining our Community Support Program (CSP) in the villages of Pacific towns of Northern Samar. Since our teams are being targeted by the communist terrorist group, it would be better that we send additional forces," Layug said in a phone interview Thursday.
The additional battalion will be deployed to the towns of Palapag, Mapanas, Gamay and Lapinig.
The remaining active NPA platoon with about 30 fighters was frequently sighted in the upland villages of these towns.
The News:
https://www.pna.gov.ph/articles/1178406