Wednesday, August 22, 2018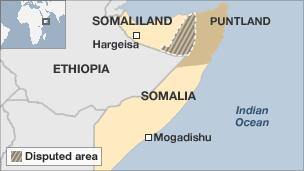 Somalia's semiautonomous Puntland says it will not negotiate with the self-declared republic of Somaliland over their disputed border.
Puntland's defence committee at the weekend threatened war in order to liberate "Puntland territories occupied by Somaliland."
The two regions in northern Somalia have been locked in a standoff over control of Sool and Sanaag areas for nearly three decades.
The land stretches from the Gulf of Aden to the Ethiopian border.
"There is no way we will negotiate with an aggressor. We can only talk to Somaliland if its army retreats from territories that belong to Puntland," said Abdullahi Ali Hersi, Puntland's Interior minister.