Friday, June 16, 2017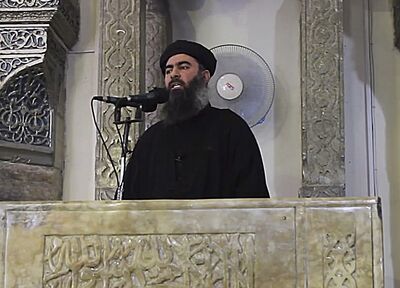 Russia is verifying intelligence that Islamic State leader Abu Bakr al-Baghdadi was killed near Raqqa, Syria, during a bombing raid by its forces in May, the Russian Defense Ministry said.
Al-Baghdadi could have been among about 30 Islamic State commanders killed by the attack on a meeting of the group in the early hours of May 28, the ministry said in an emailed statement. Reports of al-Baghdadi's death "are being verified by various channels," it said, without elaborating. The ministry provided no explanation for the delay in reporting the strike, which it said also killed about 300 Islamic State fighters.
Both Captain Jeff Davis, a U.S. Defense Department spokesman, and U.S. Army Col. Ryan Dillon — spokesman for the U.S.-led anti-Islamic State coalition — said they could not confirm the reports.
Russia didn't have more clarity on the issue later in the day, when President Vladimir Putin met with members of his Security Council. There, Defense Minister Sergei Shoigu reported on the strike and the "possible" killing of al-Baghdadi, Kremlin spokesman Dmitry Peskov said, according to Tass.
The News:
https://www.bloomber … ed-in-syria-j3zjyvy4