Wednesday, September 9, 2015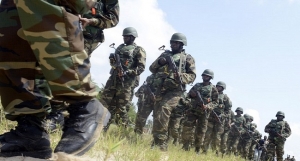 Nigeria's army has hoisted the country's flag in Gamboru Ngala, a border town with neighboring Cameroon, days after recapturing it from the Islamist militant group Boko Haram.
The militants had used the town as a stronghold to launch attacks, including kidnappings and murder in both Nigeria and Cameroon.
Nigeria's army chief of staff Major-General Tukur Yusuf Buratai was in the town Wednesday to boost the morale of soldiers on the frontlines of the fight against Boko Haram, according to Colonel Sani Kukasheka Usman, spokesman for the military.
Usman said the soldiers also received supplies including food and ammunitions.