Sunday, November 18, 2012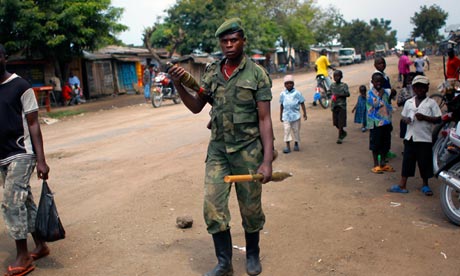 A Rwandan-backed rebel group has advanced to within two miles of Goma, a crucial provincial capital in eastern Congo, the first time rebels have been so close since 2008. The advance came despite the deaths of 151 rebels and two army officers in fighting that culminated in a series of attacks by UN helicopters on rebel positions in eastern Congo on Saturday.
A Congolese army spokesman, Colonel Olivier Hamuli, said the fighting around Goma started at 6am on Saturday. He denied reports that Congolese soldiers were refusing to fight and fleeing.
Contacted by telephone on the frontline, Colonel Vianney Kazarama, spokesman for the M23 rebel group, said his forces were poised to capture the city. "We are about to take the town. We will spend the night in Goma tonight," he said. "We are confident that we can take Goma and then our next step will be to take Bukavu," he added, referring to the capital of the next province to the south.