Tuesday, March 30, 2010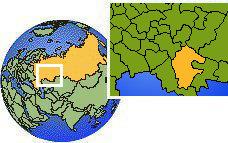 As reported by russian invaders media outlets on Sunday, the Mujahideen of Idel Ural captured a strategic district 29 in the Bashkerian town of Oktyabrskiy Friday morning.
On Saturday, the Russians moved tanks, 50 APCs and military helicopters against the Mujahideen.
The battles in the town lasted 2 days and were still going at least on Sunday morning, according to some reports.
According to local residents of the Muslim town, the number of the Mujahideen which took part in the raid was about 16 fighters. The Russians said that they moved more than 500 soldiers of the KGB troops alone to fight the Mujahideen. A large number of Russian troops from police paramilitary units also took part in 2-day battles.