Monday, December 18, 2017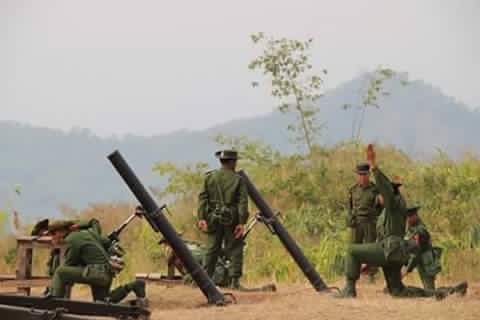 Burmese army's 257th Light Infantry Battalion (LIB) troops launched an attack on KIA's 26th Battalion's Nawng Mu post in Hpakant Township on Dec 15 at 1:20 pm. KIA sources said their troops had to withdraw from Nawng Mu post around 9 pm because of Burmese army's continuous offensives. KIA's 26th Battalion's Nawng Lut Pa post and Great Wall post had been attacked on the same day.
On the same day, Kachin civilian forces under KIA's 6th Battalion and Burmese army's 256th LIB troops fought at Laika Galai, located between Sawng Hka and Labang Kahtawng, around 10 am.
While the two sides engaged in several fronts, Burmese army frontline bases reportedly fired several mortar rounds on KIA positions and surrounding villages. N-ga Ga-based Burmese army's 86th LIB troops fired several 80 mm mortar rounds on Chyasam Hka, Lawa Hkumtsai Yang-based troops fired 80 mm mortars on KIA's 20th Battalion frontline positions, Ginsi Seng Ra Baw Sa Di- based troops fired 60 mm mortars on Ah Nam Pa, and Lachya Taw –based troops fired two 81 mm mortar rounds on KIA's Hpri Tsup post on Dec 15.
The News:
http://www.kachinlandnews.com/?p=28080