Monday, October 15, 2012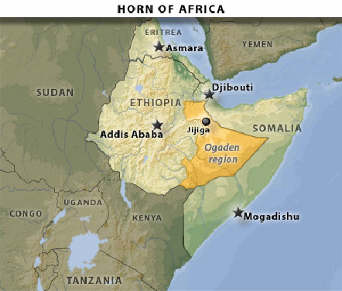 Ogaden Online frontline correspondent has reported that in recent weeks, The Ogaden national Liberation Army mounted against the Ethiopian Troops and its associated militia who were conducting punitive campaigns against the civilian population in Ogaden.
On Oct 13, 2012 After ONLA received an intelligent tip that Ethiopian soldiers detained hundreds of civilians in Wacays-Godle, Huraale district, which is part of Degahbour and Qodaxle, near Galaalshe which is part of Nogob province.
The Liberation Army sent a team of specially trained Commando who successfully freed the civilians. The detained civilians were tortured and badly treated. Among the Prisoners found were women, children and elderly people who were abducted by the Ethiopian Army.