Monday, June 18, 2012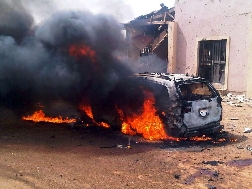 The Islamist militant group known as Boko Haram has claimed responsibility for deadly attacks on Christian churches in northern Nigeria Sunday.
The claim came in the form of an e-mail sent to journalists from the group's purported spokesman, Abul Qaqa.
It said the group carried out the bombings because Christians have enjoyed government support while, in the words of the e-mail, "killing Muslims and destroying their mosques in northern towns."
Two blasts hit churches in the city of Zaria Sunday, while a third took place at a church in the city of Kaduna.