Friday, January 13, 2012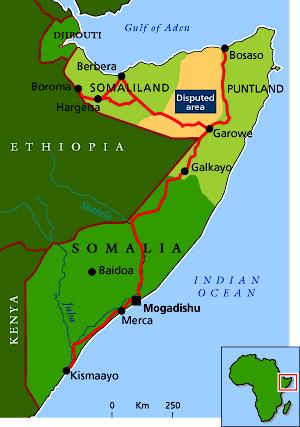 The Khaatumo II conference of Dhulbahante clan leaders held since January 5 at Taleeh fort in Sool region has culminated in the proclamation of a new semi-autonomous region in northern Somalia.
Delegates at the Taleeh conference from the Sool, Sanaag and Cayn regions announced that the new administration will function independently from the semi-autonomous regions of Somaliland and Puntland, a senior spokesman of Khaatumo conference said.
Conference spokesman Adam Abdullahi Shuuriye told the local and international media that delegates of the Khaatumo Conference had unanimously agreed to the establishment of a semi-autonomous federal region in the northern administrative districts of Sool, Sanaag and Cayn (SSC).
"The delegates of Khaatumo II conference unanimously supported the formation of their own administration which will function as a federal state of Somalia," Mr. Shuriye announced late yesterday.
"The delegates will discuss the name and administrative structure of the new state on Wednesday," he added.
The Sool, Sanaag and Cayn regions are disputed by Puntland and Somaliland, but the local community and the Dhulbahante diaspora have been organizing conferences in the region and abroad to discuss self-determination. In a high level October 2009 meeting in Nairobi, for instance, prominent Dhulbahante leaders declared the creation of "The Unity and Salvation Authority of the SSC Regions of Somalia."