Wednesday, October 5, 2011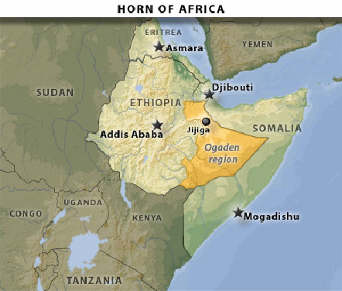 Radio Xoriyo frontline war correspondent has reported that Ogaden National Liberation Army [ONLA] is continuing heavy attacks on Ethiopian forces in Ogaden. Our correspondent said over 60 Ethiopian troops were killed and many more wounded in the latest battles, details of which are as follows:
On 18 September, well-trained ONLA units carried out a heavy attack on Chinese oil firm PetroTrans and Ethiopian troops guarding them at a place called Iley near Obale in the district of Degeh Bur, Jerar Province, where they were conducting oil exploration activity.
As the battle intensified, Chinese workers and Ethiopian troops escorting them were chased out of the site towards the camp they had come from.