Saturday, May 28, 2011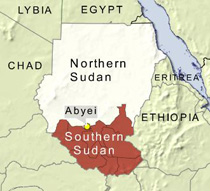 Satellite Sentinel Project (SSP) has identified Sudan Armed Forces (SAF) equipped with heavy armor and artillery at the El Obeid Barracks, approximately 270 miles from Abyei town, possibly preparing for deployment to southern areas.
Based on analysis of available transportation logistics and the formation of the units, SSP has concluded that the forces there are capable of imminent forward movement.
The force includes troop units of at least company size, towable artillery pieces, main battle tanks, infantry fighting vehicles and Heavy Equipment Transports capable of reaching Sudan's North-South border or Abyei town in less than a day.