Wednesday, May 18, 2011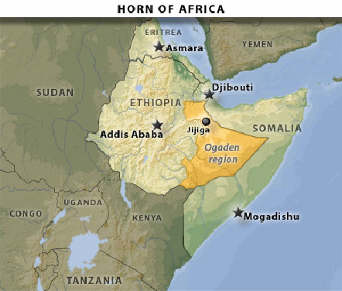 Ethiopian government troops have killed more than 100 civilians, including a local U.N. worker, during a five-day military operation in the oil and gas-rich Somali Region, a rebel group said on Monday.
More commonly known as the Ogaden, the ethnic Somali province is home to a low-key insurgency led by the Ogaden National Liberation Front (ONLF), which has fought for independence since 1984.
Government officials could not be reached for comment.
"The Ethiopian army and its local conscripts killed more than 100 civilian people from May 10 - 15 in the area, (and it) is still on going," the ONLF said in a statement.
"The (ONLF) intelligence service has ascertained that the Ethiopian army conducted the killing and abduction of U.N. local staff in the Ogaden jointly with the notorious militia of the (local) administration," it said.