Saturday, February 19, 2011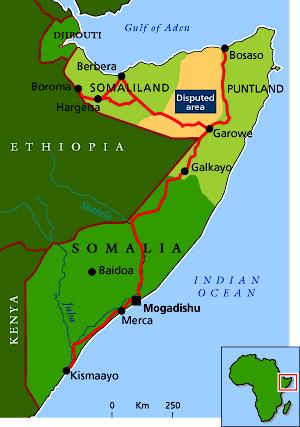 Puntland Security personnel arrested SSC terrorist commander Yasin Ali Tamaad in the central Somali town of Galkayo where he was a transit on his way back from Mogadishu. Yasin Tamaad is in charge of the military wing of the terrorist group Sool Sanaag and Cayn (SSC) and in the recent days has verbally threatened to attack Somaliland forces when he comes back to the region.
Puntland Security forces arrested Tamaad after he got off a flight from Mogadishu in which he is suspected of receiving funds and weapons from the weak Transition Federal Government of Mogadishu. He was in Mogadishu last several weeks holding talks with members of the TFG and alShabaab in Mogadishu to solicit funds and weapons.
SSC terrorist group has been battling a guerilla war with Somaliland forces in the past few months and now that the government of Puntland is not in good terms with the weak TFG government of Mogadishu, SSC is seen a threat to Puntland as well.
SSC is considered a terrorist group by both Somaliland and Puntland governments.