Monday, September 17, 2012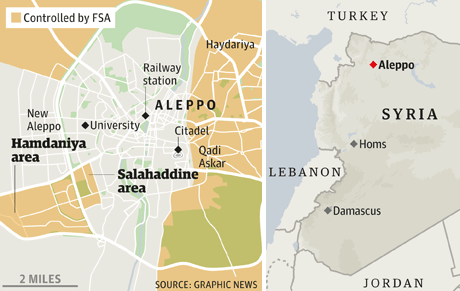 Syria's state media said the Syrian troops have fully "purged" the Midan district in the northern city of Aleppo on Sunday from armed militias.
SANA news agency said the army eliminated all the insurgents in Midan, adding that scores of other armed men were killed in a qualitative operation by the army at the Fardous district.
Also in Aleppo, the army troops have killed many "terrorists" and confiscated satellite phones while raiding a hideout of armed insurgents at al-Arqoub district in the crucial northern city.
Meanwhile, SANA said the government troops have tracked down armed groups at al-Joura, Asali and al-Qadam neighborhoods in the capital Damascus, killing and injuring scores of them, while pro- government Sham FM that more than 100 armed insurgents were killed in those areas.
The News:
http://news.xinhuane … 9/17/c_131853958.htm
Posted at 00:00:19
(2646 visits)

Find related information in War, Middle East