Wednesday, August 8, 2012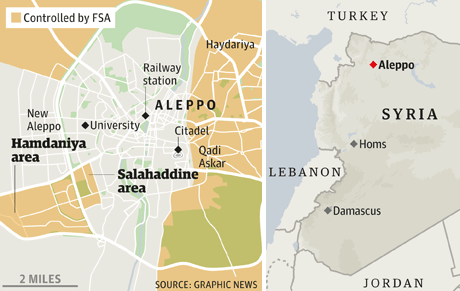 Syrian army tanks have broken through rebel lines in Aleppo, the Free Syrian Army announced on Wednesday. Regime tanks and armoured vehicles penetrated the Salaheddin district, which had been under rebel control, as the battle for the city rages on.
Government tanks penetrated a rebel-held district of Aleppo on Wednesday, sparking fierce clashes, the Free Syrian Army said, as Amnesty International raised concerns about civilians in the city.
"The regime forces advanced into Al-Malaab Street (in Salaheddin district) with tanks and armoured vehicles and fierce fighting is now taking place in the area," Wassel Ayub, a commander in the rebel army, told AFP.
The News:
http://www.france24. … -army-damascus-assad
Posted at 15:43:26
(2231 visits)

Find related information in War, Middle East