Saturday, February 11, 2012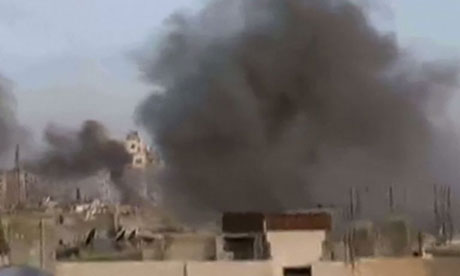 Syrian security forces have renewed their assaults on the central cities of Homs and Hama, while anti-government forces are said to have killed soldiers in Idlib and a senior military official in Damascus, activists, rights groups and the state news agency report.
Opposition neighbourhoods in Homs were hit by tank and rocket bombardments on Saturday in the government's continuing crackdown on protesters there, with the city's Bab Amr area coming under concerted fire.
Rights groups say at least four people were killed during Saturday's violence in Homs, and that three bodies of people who had been killed earlier were also recovered.
Security forces have also made house-to-house raids over the last two days in Homs, which has been under siege for the last week, anti-government activists have said. They say at least 300 people have been killed there since the government's latest assault began on February 4.
In Hama, the Syrian Revolutionary General Commission (SRGC), a rights group that has organised protests against President Bashar al-Assad's rule, says that the army is continuing to maintain a heavy presence. The group said troops raided the city's al-Sharia neighbourhood and that heavy gunfire and mass arrests were reported from there and at least three other districts.
The News:
http://www.aljazeera … 211131327549801.html
Posted at 16:08:38
(1908 visits)

Find related information in War, Middle East